Travelling to Wallis & Futuna in 3 days : Our recommended itinerary
DAY 1 : Exploring Wallis
Discover the history of the island
What better way to start your stay in Wallis than with a day exploring the island? With the visit of exceptional historical sites proposed by the territorial service of cultural affairs, you can be sure not to miss the most important places of worship of the island. Discover the Basilica of Saint Bernadette with its impressive dimensions, or the Tongan fort of Kolonui, one of the largest fortified complexes in the Pacific.
Hiking in the heart of the Wallis forest
You can continue your expedition with a hike through the vast forests of Wallis to the extraordinary crater lakes (including the most famous, Lake Lalolalo) in a serene and calm atmosphere, in full communion with nature.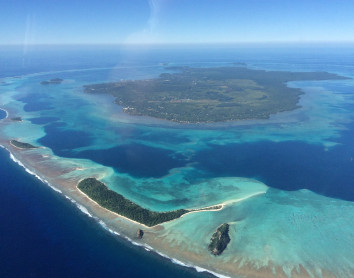 DAY 2: Islet Tour
Dive into the heart of a Pacific jewel
You can't spend your stay in Wallis and Futuna without exploring at least one of the 14 islets that border the archipelago and the turquoise waters that surround them! The nautical base of Vakala offers kayak or catamaran excursions to get closer to the marine environment. Dive into an exotic world under the sea and discover a fauna and flora full of life that will enchant you. Multicoloured corals, rays, turtles and other marine animals form a marvellous and captivating picture from which it is almost impossible to look away. 
Taste an ancient culture
These activities in the wilderness are bound to work up an appetite, so don't miss out on the traditional dishes made from fresh, local produce that most restaurants and snack bars offer! Your taste buds will be spoilt for choice!
DAY 3 : A day in Alofi
Discover the sights of the island...
Spend the whole day on this charming island with its unique natural setting. After a one-hour flight to Futuna and a short crossing from the Vele pier, you have the choice of discovering the surrounding area, including the island's first well, the Sacred Heart chapel, and the hot springs of Vaivevela.
... and enjoy a few moments of serenity
You can also relax on the white sandy beaches and enjoy snorkelling. Finally, you can also hike through the primary forest to the Loka Cave, a beautiful place of pilgrimage.
Don't forget to bring some food to make the most of your day in the heart of a postcard-perfect landscape! Alternatively, you can enjoy a meal of freshly caught fish, coconut crabs and taro, provided by some of the fishermen who operate as taxi-boats.