For its beaches and marine life
Polynesian islands, whether with black or white sand, boast magnificent beaches. Matira Beach in Bora Bora, in particular, is breathtaking.
Protected by the coral reef, its lagoon is a natural swimming pool perfect for snorkeling. The same goes for Temae Beach in Moorea or Tereia Beach in Maupiti. Almost deserted, the latter is home to exceptional wildlife and flora.
Fakarava in the Tuamotu Islands is world-famous for its scuba diving spots. Moreover, the island boasts a beautiful beach.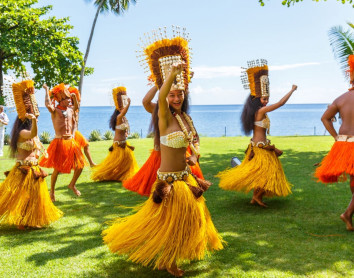 For Ori Tahiti (tahitian dance)
It's impossible to stay in French Polynesia without witnessing a tamure performance. It's one of the Tahitian dances listed as part of France's intangible cultural heritage. Tamure is an art in its own right.
The numerous dance schools in Tahiti regularly present performances. They compete every year during Heiva, which takes place in July. The choreographies, costumes, tanes (dance groups), and vahinés (female dancers) are impressive!
For its crafts
Polynesian craftsmanship is incredibly rich. Basketry in the Austral Islands, seashell necklaces in the Tuamotu Islands, sculptures, and tikis in the Marquesas Islands... true cultural treasures.
Each archipelago has its specialty and craftsmanship. The main market in Papeete is full of artisanal products, offering plenty of choices.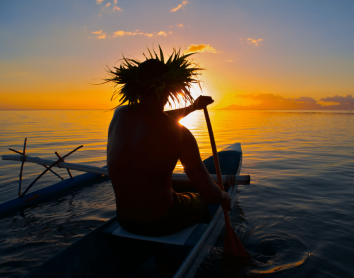 For its pearls and tattoos
If Ori Tahiti is an art in its own right, so is tattooing. It represents values such as family, harmony, fertility, and "mana," a higher force. A tattoo is a personal mark that represents the life and values of the person being tattooed.
There is no shortage of tattoo studios for those who want to embark on this adventure. Nor are there a shortage of pearl vendors! A true symbol of French Polynesia, Tahitian pearls are now exported worldwide. You can leave with a lovely gift for a loved one: Tahitian pearl earrings or a pendant.
Moreover, you'll also have the opportunity to visit pearl farms to get a closer look at Tahitian pearl cultivation.
For its landscapes and hiking
The sometimes rugged terrain of Tahiti is ideal for hikes of varying levels, often dotted with waterfalls and natural pools:
La Fautaua, one of the most famous,
La Onohea with its water lily-covered lake,
La Mateoro, where the watercourse originates from a narrow canyon,
La Te Faaiti with its three siphon pools...
Properly chosen (family-friendly, moderate level, good physical condition, etc.), these hikes always offer exceptional views.